Training on
Career and Planning Development
August 9 - 12, 2016
APO View Hotel - Davao City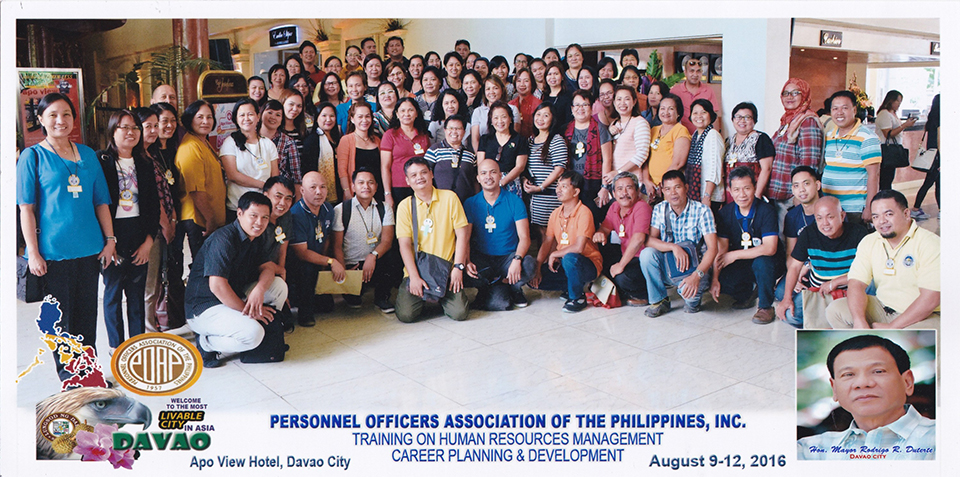 HIGHLIGHTS AND IMPRESSIONS OF THE SEMINAR:
It is never too late to reconsinder our career paths/continously took for oppurtunities.
We should not allow plateauring in our career ladder; we should make something about it. While we cannot undo plateauing in the past, we should not allow it to happen again/remove self-defeating attitudes.
Self-assessment
This training is an eye opener for us a part of our journey of discovering of how to improve and enhance the performance of our agency in terms of Human Resource Management. We are one in our belief that people are the most important resource of an organization, thus efforts to address management issues should be given prime consideration.
There are still a lot of things that we have to CHANGE in our respective agencies, and this requires conviction and commitment to effect positive change.
It is important to have career goals or vision of ourselves wherein our potentials as an individual/employee are fully realized in an organization.
Once we know/establish our career goals or vision of ourselves in the future, we should device means or ways in which we can achieve them - career planning which can be done by ourselves on with the help of others
Carry out the plan by doing/immersing ourselves in various career development activities
Assess/contemplate if goals are being met
Ultimately the burden rest of on the individual for the success of his/her career.
Resources Speakers -
Effective speakers
Knowledgeable in their respective topics/subject discussed are effectively important to the participants
speakers are competent
speakers have mastery of their topics
---
2016 Training Calendar, Invitation, and Nomination Form
---
What is POAP?
The participants of the first Personnel Officers Course of the then Bureau of Civil Service organized the Personnel Officers Association of the Philippines on May 6, 1957. Alumni of subsequent sessions of the course constituted the core members of the Association which was incorporated in 1960.
POAP extends membership to government officials and employees and to others who are interested in progressive personnel/human resources (HR) management of the Philippine bureaucracy.
The Association aims to foster active interest in sound public personnel management/HRM.It serves as a clearing- house for information on relevant personnel management/ HRM methods and techniques. It hopes to safeguard and vitalize the merit principle in the government service through the development of a corps of well- informed, forward- looking, responsible personnel management/ HRM officers, administrators and practitioners.
Vision
To be the institutional leader in developing and strengthening capabilities of human resources towards excellent public service.
Mission Statements
Strengthen POAP capabilities as the center of excellence for the development of human resources.
Strengthen the capabilities of human resources towards excellent public service.
Promote, develop, and maintain the spirit of mutual assistance and understanding amongst members and stakeholders.
Articulate issues and concerns on merit and fitness, security of tenure, honesty and integrity in public service.
Promote advocacy for continuous human resources development.
Establish and maintain effective linkages with private institutions towards development of human resources.