ANNOUNCEMENT
PLEASE BE INFORMED THAT ATTY. ARTURO LACHICA, DEPUTY COMMISSIONER OF THE BUREAU OF CUSTOMS, MET A TRAGIC DEATH LAST NOVEMBER 17, 2016. HE IS ONE OF OUR RELIABLE RESOURCE SPEAKERS. HIS BODY LIES IN STATE AT ST. PETER'S CHAPEL IN COMMONWEALTH AVENUE, QUEZON CITY. BURIAL IS ON SUNDAY. PLEASE PRAY FOR ETERNAL REPOSE OF HIS SOUL.

THANK YOU VERY MUCH.

POAP BOARD
---
ANNOUNCEMENT FOR THE NATIONAL CONFERENCE
THE VENUE FOR THE NATIONAL CONFERENCE WILL BE HELD IN HOTEL REMBRANDT LOCATED AT 26 TOMAS MORATO EXTENSION, BRGY. SOUTH TRIANGLE QUEZON CITY, PHILIPPINES ON DECEMBER 6 - 9, 2016.
---
Training on
Developing Effective Work Teams
October 4 - 7, 2016
Harbor Lights Hotel, Cagayan De Oro City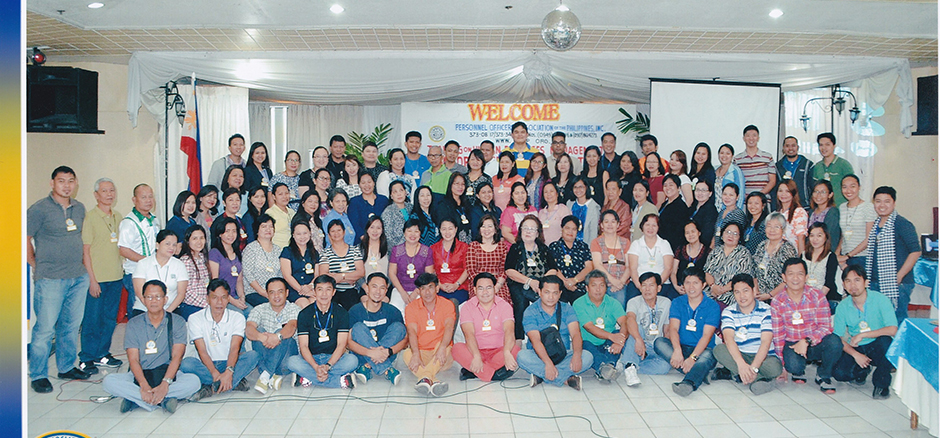 Click here to view more pictures
HIGHLIGHTS AND IMPRESSIONS OF THE SEMINAR:
Excellent topics were discussed
Speakers were knowledgeable and very competent
Can be applied by respective offices or for personal gain; we encourage officemates to attend this kind of seminar
The venue and the food they served are good
The facilitator is facilitating well
Meets the topic/objective of the seminar
We learned new things to apply in our work
Can we actually applied to job
Very informative
All participants are very friendly
A good event to meet other people from different parts of the country
Useful in our field of work/specialization
Realization was obtained in terms of dealing with co-workers
The training is effective in empowering the groups in participating in the discussion
This seminar help us gain more knowledge
The modules presented in the training on Developing Effective Work Teams may be easily searched on the Internet, how simple the concepts are, but the Resource Persons were able to make their presentations interesting and the discussions engaging. We are grateful to have been part of this training as we have gained much knowledge from this activity.
We would like to give special thanks to Ms. Teresita Arceo because she gave much depth to the topics on team leadership, especially the modules on Consensus and Feedback. We will definitely be able to utilize our learning back at our respective agencies.
POAP Seminars help a lot specially for us government employees it broadens and enhances our working habits and abilities to serve the country well.
---
2016 Training Calendar, Invitation, and Nomination Form
---
What is POAP?
The participants of the first Personnel Officers Course of the then Bureau of Civil Service organized the Personnel Officers Association of the Philippines on May 6, 1957. Alumni of subsequent sessions of the course constituted the core members of the Association which was incorporated in 1960.
POAP extends membership to government officials and employees and to others who are interested in progressive personnel/human resources (HR) management of the Philippine bureaucracy.
The Association aims to foster active interest in sound public personnel management/HRM.It serves as a clearing- house for information on relevant personnel management/ HRM methods and techniques. It hopes to safeguard and vitalize the merit principle in the government service through the development of a corps of well- informed, forward- looking, responsible personnel management/ HRM officers, administrators and practitioners.
Vision
To be the institutional leader in developing and strengthening capabilities of human resources towards excellent public service.
Mission Statements
Strengthen POAP capabilities as the center of excellence for the development of human resources.
Strengthen the capabilities of human resources towards excellent public service.
Promote, develop, and maintain the spirit of mutual assistance and understanding amongst members and stakeholders.
Articulate issues and concerns on merit and fitness, security of tenure, honesty and integrity in public service.
Promote advocacy for continuous human resources development.
Establish and maintain effective linkages with private institutions towards development of human resources.