Contact Info
No. 9 Biscayne Street, South Fairview, Brgy. Fairview Park, Quezon City
poap_org@yahoo.com
(02) 83733468, 0949-8892016 (Smart), 0917-8614273 (Globe)
NEWS 2016
2023
/
2022
/
2021
/
2020
/
2019
/
2018
/
2017
/
2016
/
2015
/
2014
/
2013
---
OATH TAKING & MEETING OF BOARD OF DIRECTORS
March 12, 2016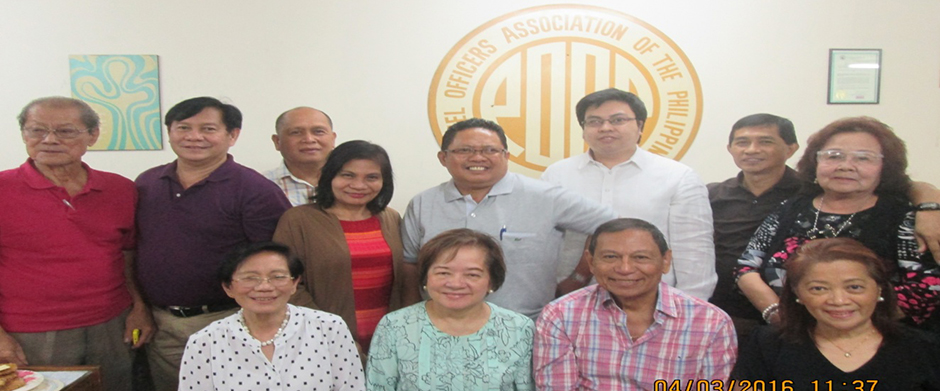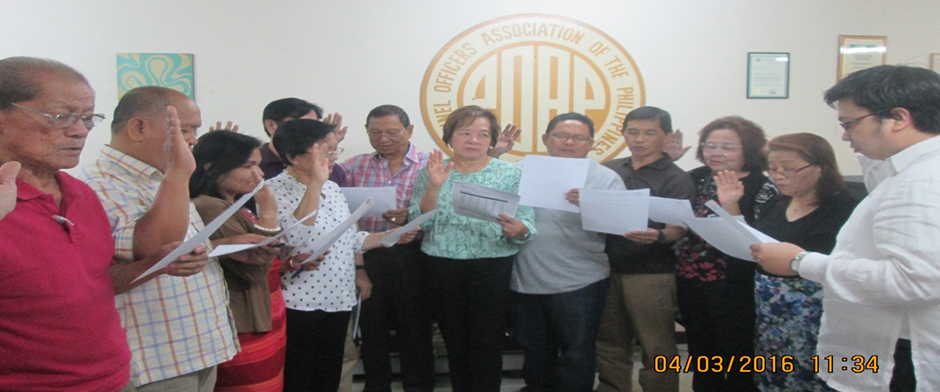 The newly-elected POAP Board of Directors for CY 2016 held its First Quarter meeting at the POAP office last March 4, 2016. Before the start of the meeting, there was an oath taking ceremony presided by a Notary Public, Atty. Marc John Estrellado as shown in the upper picture. The lower picture shows the BOD; standing from left to right are: Mr. John P. Rabe, Mr. Florante F. Alvero, Mr. Ildefonso O. Bergis, Ms. Nelilita M. Tanggor, Mr. Somerado M. Pandapatan, Mr. Ronaldo V. De Castro and Ms. Virginia dC. Valencia, while those seated are Ms. Teresita G. Arceo, Atty. Edelwina dG. Parungao, Atty. Julio M. Navarrete and Ms. Lea M. Mendiola.
---
Message of Dr. Jane Bascar
Personnel Officers Association of the Philippines
Towards Effective Managenerial Competencies and Advanced HRM Skills
Garden Orchid Hotel
October 20 – 23, 2015

God bless, I am Apple Go from the office of the Mayor. May I read to you our mayor's message:
Buenos dias a todos! En Calor de Govierno local, bienvenidos a Zamboanga!
On behalf of our Mayor Beng Climaco, it is my pleasure to welcome all of you to the City of Zamboanga for this training on effective managerial competencies for personnel and human resource officers.
As personnel officers, we are tasked with the welfare and well-being of the workforce, and that task requires us to balance utmost professionalism with the personal touch in establishing and maintaining relationships within the workplace. The enormity of this responsibility, coupled with the delicacy and diplomacy that personnel officers must inherently have to effectively deal with both internal and external clients, simply highlights the very importance of cultivating managerial competencies.
It is our responsibility as service-oriented front-liners to always be up to par with the standards that the world demands from our profession. To be and to remain competent is a professional responsibility that we owe to the people. It is a courtesy that we owe to ourselves as well for our personal and professional growth.
And like anything that is worth having, gaining the competence for our tasks require hard work and dedication to keep learning by way of further studies and training courses such as this.
It is not so much about the many rules of engagement or the regulations, or the policies that we implement but, the complexities of human nature, relationships and interactions that require us not only to be competent but also confident in managing our workforce in order to guide them and help them fulfill their potentials and the objectives of our organizations.
Again, it is a pleasure to have you all here in Zamboanga City. We hope you find your stay fruitful and memorable.
Muchisdimas gracias yvaya con Dios.