Contact Info
No. 9 Biscayne Street, South Fairview, Brgy. Fairview Park, Quezon City
poap_org@yahoo.com
(02) 83733468, 0949-8892016 (Smart), 0917-8614273 (Globe)
NEWS 2019
2023
/
2022
/
2021
/
2020
/
2019
/
2018
/
2017
/
2016
/
2015
/
2014
/
2013
---
POAP ELECTS ITS SET OF OFFICERS FOR 2019
February 8, 2019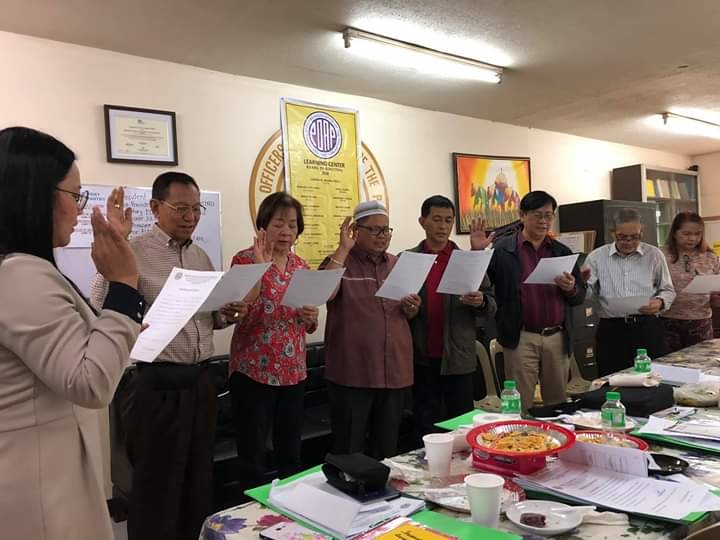 The POAP Board of Directors elected a new set of officers for CY 2019 during its Organizational Meeting and First Quarterly Board Meeting held on January 17, 2019 at the POAP Office, Quezon City. The Board elected the following officers:
LORETA G. AYSON, CESO I
President

RONALDO V. DE CASTRO
Vice President

ATTY. EDELWINA DG. PARUNGAO
Secretary

ATTY. JULIO R. NAVARRETE
Treasurer

ARTURO T. LISING
Assistant Treasurer

FLORANTE F. ALVERO
Auditor

SOMERADO M. PANDAPATAN
Public Relations Officer

The members of the 2019 POAP Board of Directors include the following:
Nora D. Aldave
Rhiza B. De Zosa
Asliah M. Maniri
Johana L. Pandapatan
John P. Rabe
Brenda D. Sarmiento-Ragas
Virginia dC. Valencia
Atanacio G. Zara

The officers and members of the POAP Board of Directors took their Oath of Office as shown in the photo.