Contact Info
No. 9 Biscayne Street, South Fairview, Brgy. Fairview Park, Quezon City
poap_org@yahoo.com
(02) 83733468, 0949-8892016 (Smart), 0917-8614273 (Globe)
NEWS 2020
2023
/
2022
/
2021
/
2020
/
2019
/
2018
/
2017
/
2016
/
2015
/
2014
/
2013
---
Plans are underway for POAP's conduct of Virtual Training Programs
July 1, 2020
In pursuance of the POAP's vision to be the Center of Excellence in developing and strengthening the capabilities of human resources and as a CSC-accredited Learning and Development Institution, POAP plans to run a series of virtual training programs this year.
POAP decided to embark on this course of action considering the serious concern over the COVID-19 pandemic which has forced everyone to a "new normal," where face-to-face interactions among individuals are not tolerated, and movement and transportation are limited in the enforcement of community quarantine protocols. It is, thus, our responsibility to adhere to such limitations, and practice measures such as, but not limited to, work from home/stay at home, social/physical distancing and conduct of online/blended learning.
The POAP virtual training programs we plan to implement soon are expected to help our government officials and employees cope with the new work situations under the "new normal" environment. Such trainings are aimed at capacitating them with knowledge and skills competencies, motivation and job satisfaction towards improved productivity.
Likewise, these virtual training programs will definitely enable government workers, who need to meet training requirements for promotion purposes, to be eligible for appointment to higher positions in accordance with the Civil Service Commission Qualification Standards for various positions in the bureaucracy.
To launch our virtual training programs, we are pleased to announce that POAP will hold a webinar on Friday, July 17, 2020, from 2:00pm to 4:00pm via ZOOM. We have invited competent resource speakers to discuss interesting topics. To join the webinar, please register using this online form or contact Mary S. Dominic at telephone numbers: 0917-8614273, 0949-8892016, 8-3730817 and 8-3733468 or send an e-mail to poap_org@yahoo.com on or before Wednesday, July 15, 2020.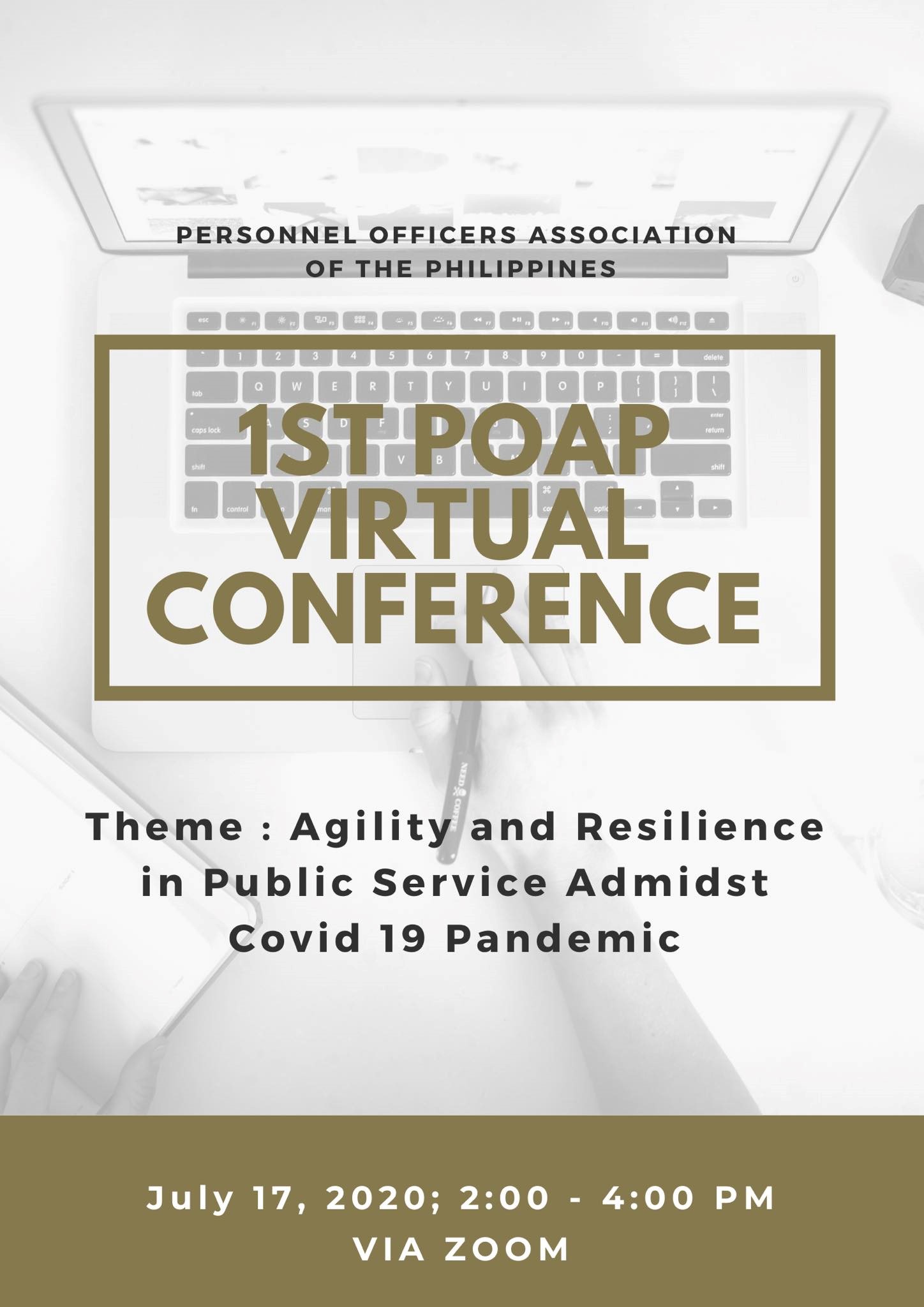 ---
POAP ELECTS ITS SET OF OFFICERS FOR 2020
February 4, 2020
The Personnel Officers Association of the Philippines, Inc. elected its new set of officers during its Organizational Meeting held on January 16, 2020. Elected officers are as follows:
President - Former Undersecretary Loreta G. Ayson, CESO I
Vice President - Mr. Ronaldo V. De Castro
Secretary - Atty. Edelwina dG. Parungao
Treasurer - Atty. Julio R. Navarrete
Auditor - Mr. Arturo T. Lising
Public Relations Officers - Dr. Raymundo P. Arcega

An oath-taking was held right after the election as officiated by Atty. Julie Pearl Dayag.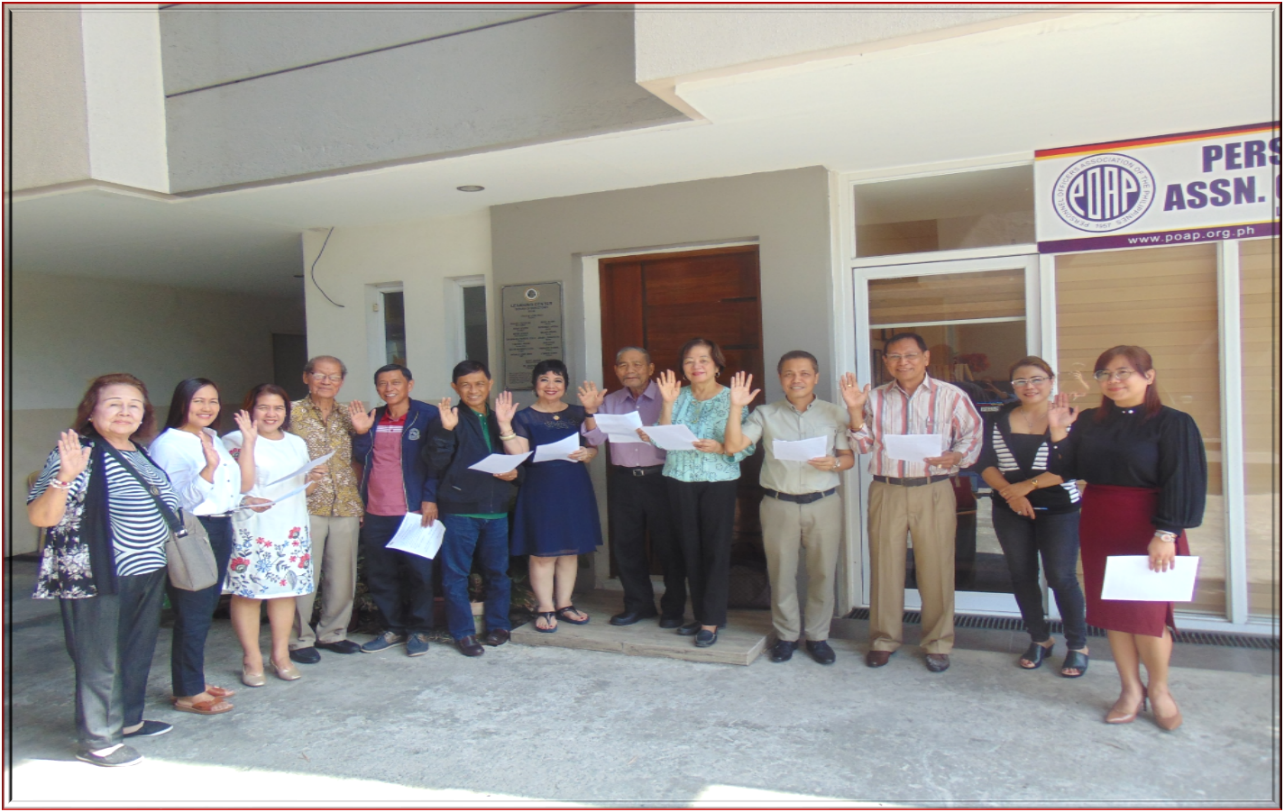 From left to right are: Ms. Virginia dC. Valencia, Ms. Brenda Sarmiento, Ms. Nora D. Aldave, Mr. John P. Rabe, Hon. Atanacio G. Zara, Mr. Ronaldo V. De Castro, Ms. Loreta G. Ayson, CESO I, Mr. Arturo T. Lising, Atty. Edelwina dG. Parungao, Dr. Raymundo P. Arcega and Atty. Julio R. Navarrete. Not in photo are Ms. Rhiza B. De Zosa, Ms. Asliah M. Maniri and Dir. Somerado M. Pandapatan.
The new set of officers of the POAP Board of Directors pose for a photo in front of the newly acquired POAP Learning Center. The 1st Quarter Board Meeting ensued right after the election and induction of officers.
POAP holds its Organizational Meeting every third Thursday of January, following the election of 5 new Board members during the POAP Annual Meeting held every December of the preceding year.
The following members of the POAP Board of Directors were elected during POAP's Annual Meeting conducted last December 6, 2019 at the Hotel Rembrandt in Quezon City:
Ms. Nora D. Aldave
Dr. Raymundo P. Arcega
Mr. Arturo T. Lising
Ms. Brenda D. Sarmiento and
Hon. Atanacio G. Zara